GranCotto with Aromatic Herbs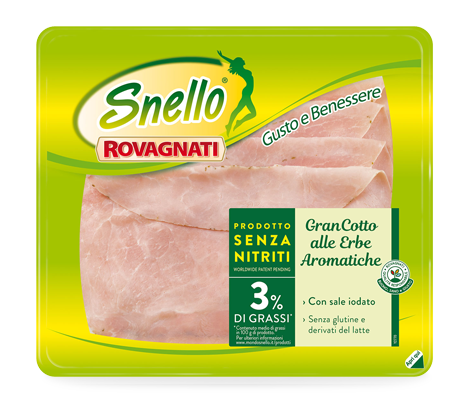 GranCotto with Aromatic Herbs is made from lean cuts of pork leg trimmed by hand to reduce the fat content to just 3%. Aromatized with an exclusive blend of aromatic herbs (including marjoram, thyme, parsley, rosemary and tarragon) and steamed to make it light and full of flavour.
Free of gluten and milk proteins. Available in 100g packs.
The Snello free service line offers a wide range of quality charcuterie just as good as traditional cured meat but leaner and lighter, prepacked in convenient sealed trays in a controlled atmosphere.
All free of gluten and milk derivate.
Nutritional values per 100 grams
Energy value
435 kJ - 103 kcal
Fats
of which saturated fatty acids
2,1 g
0,7 g
Carbohydrates
of which sugars
1,0 g
1,0 g
Proteins
20 g
Salt
2,0 g