The '40s/'50s:first steps.
It all began with butter production and cheese trading.
Just after the end of the Second World War, Angelo Ferruccio Rovagnati decided to produce food essential together with his son, Paolo, who left his studies to put his heart and soul into the father's business.
The '60s:cooked ham.
At the height of the economic boom, Paolo convinced his father to produce charcuterie.
He was convinced that by studying and trying out new production methods they could achieve high quality, even in cooked ham, which used to be considered an inferior product.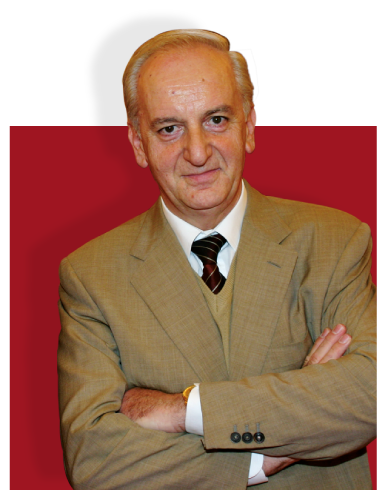 The founder
Paolo Rovagnati was the founder, creator and driving force of the business
...by constantly improving and updating products, processes and plants and often inventing machinery, methods and solutions.
His insight into marketing, production and processes led Rovagnati to become a nationally recognized business, while maintaining its identity as a Brianza-based company.

The '70s:a national business.
Paolo Rovagnati took over in 1968 and business soared.
His knowledge of the area, due to longstanding contact with clients, led the business to grow to national prominence.
1980,
the birth of Gran Biscotto.
The name became important.
This led Paolo Rovagnati to come up with the ingenuous idea of continuous fire branding on the rind of Gran Biscotto, his flagship product. Even without the packaging, Gran Biscotto could easily stand out from the rest.
1985,
the birth of Sgrassatella.
Rovagnati kept growing, producing up to 20 types of cooked ham.
Rovagnati needed to expand its production plant, invest in cutting-edge systems and diversify its charcuterie. "Sgrassatella", a lean and tasty bacon, was unthinkable in those days, but just what the market wanted.
The '90s:Mortadella and prepacked sliced charcuterie.
Expansion into other regions of Italy led the company to make another move: Mortadella joined the Rovagnati brand.
Products needed to be conserved for longer while staying fragrant and high quality: hence, the line of sliced charcuterie prepacked in a protective atmosphere.
1991:
the wheel of fortune takes a turn.
Rovagnati decided to sponsor the Italian TV game show "La Ruota della Fortuna" ("The Wheel of Fortune") hosted by Mike Bongiorno on Canale 5.
The publicity campaign was an immediate hit, and the nationally renowned company kept on growing.
The 2000s:technology and innovation.
Cutting-edge technology is Rovagnati's lifelong companion.
A new, completely automatic plant was created in Villasanta to manage dispatch, while a new factory was built to develop innovative products "Le Panatine" and "Snello Gusto & Benessere".
Today:
tradition and foresight.
Rovagnati exports to a number of European and non-European countries such as France, Belgium, Germany, Ireland and the USA.
The internationalization process and brand growth strategy are supported by takeovers like Berkel, the world-renowned meat slicer manufacturer.
Fondazione Paolo Rovagnati Onlus
The non-profit foundation has the unique objective of social welfare and operates in scientific research, social services, health services and charity.
The Foundation works with public and private, national and foreign institutions pursuing the same goal.
Donate 5x1000 to the Paolo Rovagnati Foundation
Tax code: 94619880159